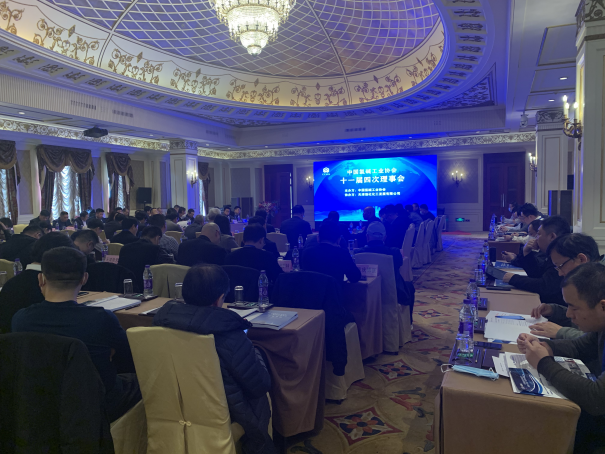 On February 23, the 4th session of the eleventh Council of CCAIA was held in Tianjin. With the number of directors supposed to attend being63, 92 representatives from 59 council members were actually present at the meeting, making the attendance rate reaching 94%, which meets the requirement of provisions of the Association's articles.
 While Zhang Wenlei, President of CCAIA, presided over the meeting, Zhang Yehui, Presidentof Tianjin Bohua Chemical Development Co., Ltd., the co-organizer of the meeting, delivered a welcome speech. During the meeting, Zhang Wenming, the second-level inspector of the Department of Raw Materials Industry of the Ministry of Industry and Information Technology, Guo Fang, director of the Third Export Division of the Bureau of Trade Remedies and Investigations of the Ministry of Commerce, and Gao Peng from the Department of Solid Waste and Chemicals of the Ministry of Ecology and Environment, respectively reported the national policy requirements on industrial development, trade remedies and environmental protection, also providing guidance on how to further achieve high-quality development in the chlor-alkali industry.
 Zhang Peichao, Vice President and Secretary-general of CCAIA, gave a briefing on the 2022 work and 2023 work plan, which was considered and adopted at the meeting. Everyone fully affirmed the work of CCAIA in 2022, believing that the Association has worked closely around the focus and difficult issues of industrial production, operation, transformation and upgrading, and has achieved great results and played a positive role in promoting the sound and sustainable development of the industry.
 The meeting participants had a full exchange. Liu Gehong, General Manager of Tianjin Bohua Chemical Development Co., Ltd., Zhang Qiang, Vice President of Xinjiang Tianye Chemical Co., Ltd., and Li Jianwei, Executive Vice President of YibinTianyuan Group Co., Ltd., respectively exchanged their experiences in production, operation, reform and development, and focused on the next development plan.
 The meeting deliberated and voted on the "2022 Annual Report on the Income and Expenditure of Membership Fees of CCAIA" and the "Report on the Development of CCAIA Members"; The proposals of "setting up the Beijing Representative Office" and "establishing the Professional Committee of Chlorinated Disinfectants " were reviewed and voted through; The proposal to appoint Zhu Jianping and Zhang Shoute as the Vice Secretary-General of the Association was reviewed and adopted; The new version of the Part-time Management System of CCAIA was reviewed and implemented.
 The meeting organized a visit to the Nangang Base of Tianjin Bohua Chemical Development Co., Ltd. All participants expressed their heartfelt gratitude to the co-organizer, Tianjin Bohua Chemical for its warm, thoughtful and meticulous service.